The question of maximum read distance often dominates performance debates. Is read distance the best indicator of performance? The answer is no. Due to many environmental conditions such as multipathing, RF interference, tag orientation and physical tag consistency, using read distance as the main indicator of performance can lead to improperly set expectations and project disappointments.

The better indicator of performance is how well the tag can be read at the customer's required distance. This is also known as a margin test. A margin test will allow users to determine the transmit power needed to meet the customers requirements. With this information, reader transmit power levels can likely be turned down reducing stray reads, interference with other readers and power usage.


Scenario:

Customer A needs to consistently read a tag at 3 meters.

Instead of simply stating that the reader can read the tag at 3 meters, use a margin test to determine the amount of transmit power necessary to do the job.

It is best to test the tag in many orientations, especially worst case.

It may be determined that a transmit power level of 21 dBm is all that is needed to meet the customer requirements.

Considering that transmit power doubles every 3 dB, 21 dBm is 8 times less power than the standard maximum of 30 dBm. The results are compelling.


Running a Margin Test: 

Impinj's ItemTest software utility gives users the option of performing many different tasks including a Margin Test.

First configure ItemTest to connect to your Impinj reader:
1) Launch ItemTest and go to "Reader Settings" menu.
2) Click "New" button at the bottom left corner.
3) Enter your reader's hostname and click "OK" button.
Second, set up a Margin Test by clicking "Configure" button at the bottom left corner of the ItemTest main window, as shown below: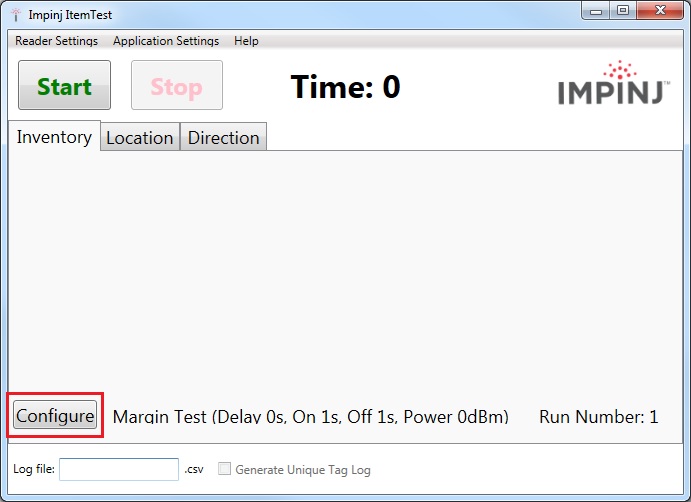 Select "Margin Test" radio button, and fill in your desired variables and click "OK" button.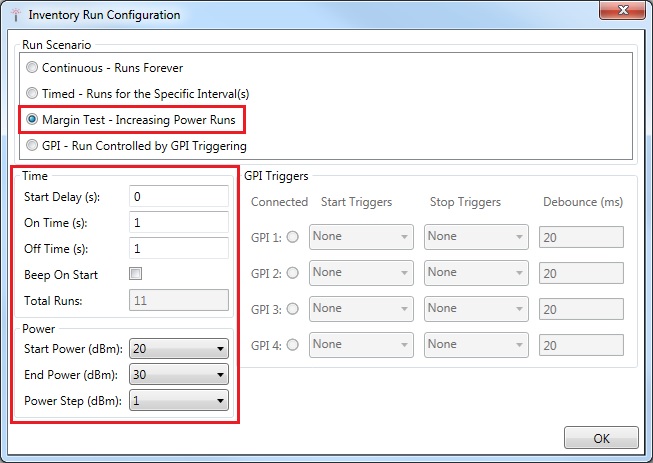 Thirdly, enter Margin Test log name into the "Log file" field at the bottom left corner of the main window.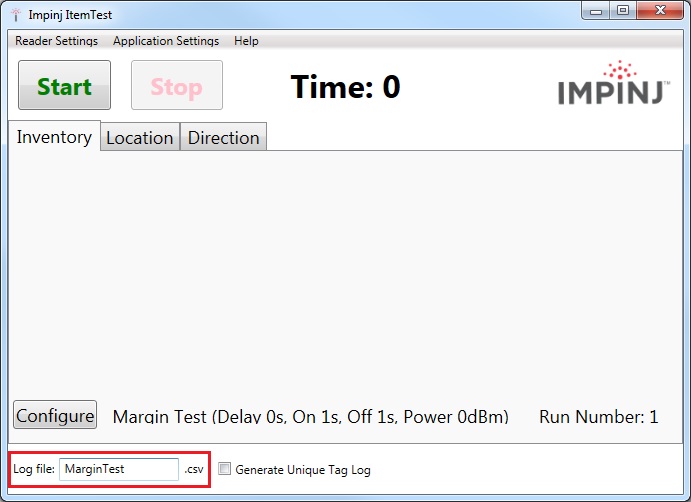 Lastly, click "Start" button in the main window. When the Margin Test is complete, go to the following folder on your PC to retrieve the Margin Test log:
C:\Program Files (x86)\IMPINJ\ItemTest\log

ItemTest offers users a very simple way to gather very powerful data. Ensure you are using the latest version of ItemTest. If not, install and use this version. Please contact your Impinj representative for more information.