Overview
Several customers have reported getting an "unknown USB Input Device", "Unknown Device", and/or "Device not recognized" error message when plugging an Impinj Device (reader or gateway) into the USB port of a Windows 10 machine.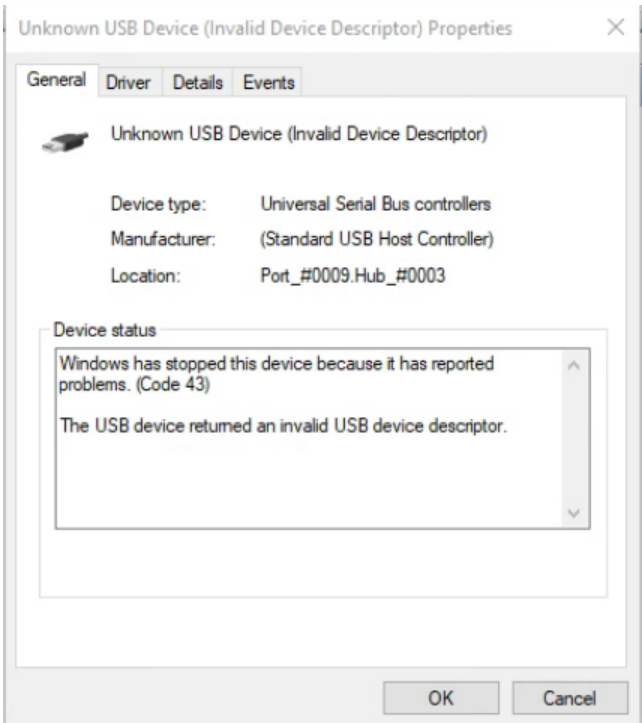 Many of the issues can be addressed by the "Troubleshooting Readers Connectivity Issues" article. In this article we will provide additional troubleshooting steps to connect to an Impinj Reader via USB.
Troubleshooting Steps
#

Troubleshooting Steps

Details

1

Disable any security scanner software on your system

It is possible a security scanner or anti-virus software has disabled the USB port. Several customers have reported this reason to be the cause.

2

Check for Windows Updates

We have seen customers successfully connect via USB after Updating Windows.

3
Connect to a USB 2.0 port

On some PCs with USB 2.0 and 3.0 ports we have seen USB 2.0 ports work reliably.

4
Verify the USB port is working by plugging in a flash drive in that port.

Customers have reported that when they used a USB storage device, removed it, and plugged in the Impinj reader right after, the device manager will see the reader.

5
Disable Fast Startup

Some customers have resolved their USB issues by disabling Fast Startup.

6
Compare the files in your system to see if they match the ones on a working Windows 10 system:

Please download the WINDOWS.zip file, open it, and verify if any or all of these files exist on your system.
The main two files to check are USBHUB3.SYS and USBPcap.sys. If these are different then it is likely these files that are preventing you from communicating with the reader via the USB drive:

The following controllers can be seen in the Device Manager for our systems that work:

7
Read and Implement solutions from searching online articles

As of 10/1/2019: We have done a search online for some possible solutions to windows 10 usb issues:

This is not an endorsement but rather a resources we found useful.

8
Try an alternative solution

If there is any option to drop the USB connection and use ethernet instead, you can directly connect the reader to the machine.

One could potentially write an adapter that takes input from the reader via ethernet and transmits it to the target application via keyboard input.
If these steps did not work for you, please submit a support ticket. Make sure to include as much information about your setup (hardware, software, versions, etc) to help us to reproduce this issue. If you have any information that can help improve this article, please email us at support@impinj.com, reference this article, and provide the information you found useful in resolving the USB Connectivity issue.